Andrews University | September 28-October 1, 2023
Homecoming Weekend is almost upon us! This year's theme "The Quiet Hand of God" takes us on a journey from last school year as Andrews University faced a "Season of Change" – with the search for a new university President and lead pastor of Pioneer Memorial Church – and leads us to our current "Season."
Please check back frequently for more information about Homecoming over the coming weeks as details are finalized. We also highly encourage you to fill out the Homecoming registration form if you plan on attending any of the events throughout the weekend, so that we can easily communicate with you regarding any event changes.
The honored classes during Homecoming 2023 are: 1953, 1963, 1973, 1983, 1993, 1998, 2003, 2013, 2018, 2023.
Making your stay for Homecoming a great experience is possible with more than 30+ lodging options near the Andrews University Campus.
A range of accommodations are offered on-campus including a full-service cafeteria. University Hospitality Services offers campus tours to families, individuals and groups. You may arrange a tour by calling 269-471-3360 or by email to lodging@andrews.edu.
SPECIAL DISCOUNT: Three hotels in Benton Harbor are offering a special discount on a King Suite for $84-89 a night to visiting alumni during Homecoming Weekend 2023. Call them and mention that you are Andrews University alumni to get the discounted rate.
SpringHill Suites by Marriott (269-338-8300)
Hilton Garden Inn (269-926-5000)
Courtyard by Marriott (269-210-3000)
Nominate an Individual for Future Consideration
The Andrews University Alumni Association Medallion is presented to honored alumni who have been nominated by fellow alumni and approved by the Alumni Board of Directors to be recipients of this award. Honored Alumni are selected on the basis of outstanding service to the University, exceptional achievement in a profession or occupation, and contributions to the community or church. Congratulations to this year's recipients!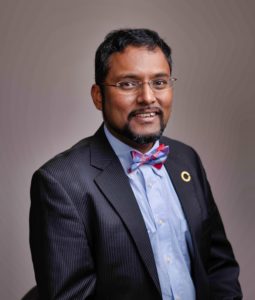 Daryl Gungadoo (BSET '95) 
Daryl Gungadoo was born on the Island of Mauritius to a second generation missionary family. Beginning at age 3, he followed his parents on their missionary journeys to Rodrigues, Madagascar and equatorial Africa.
They moved to Berrien Springs in 1988 and Daryl graduated from Andrews Academy in 1990, completed a Bachelor of Science in Engineering Technology in 1995 at Andrews University, and then began a master's program in software engineering.
During the 1993–1994 school year, Daryl went as a student missionary to Guam, serving as an engineer with Adventist World Radio (AWR).
Subsequently, he earned a master's degree in audio engineering at Massachusetts Institute of Technology (MIT) in 1996. Daryl recently completed a PhD in computational cognitive neuroscience from Stanford University in 2022.
From 1996–2001, Daryl worked for AWR Europe, then transitioned to global R&D engineer for AWR from 2002–2017. Since 2018, he has been director of Adventist Review Media Lab for the General Conference of Seventh-day Adventists. 
He is especially passionate about nurturing innovation with a Christian ethos among the youth, and his goal is to float an incubator for innovation that is open to budding Adventist inventors.
Daryl has worked with the One Laptop Per Child (OLPC) project with MIT Media Labs. He has also been a pioneer in podcasting, 360 VR and Radio 2.0 and was the technical producer for "Global Youth Day" from its inception in 2013 to 2017. 
Daryl says, "In my teen years, I knew I was 'destined' to be a missionary. I, however, didn't feel the call to go into pastoral ministry (like my father or grandfather) and was more inclined toward science and engineering instead. I started my BS in Engineering Technology at Andrews … I was blessed to have engineering professors (like Robert Ludemann, Ron Johnson), physics professors (like Robert Kingman, Mickey Kutzner) and computer science professors (like Jim Wolfer, Dan Bidwell) who illuminated me to the fact that I could fulfill my calling of being a missionary without doing a degree in theology."
He notes, "The single greatest opportunity that Andrews gave me, outside of a purely academic framework, was going as a student missionary to the Island of Guam for Adventist World Radio. Andrews also offered meticulous preparation in cultural anthropology and personal spiritual growth by illustrious professors like Bruce Bauer, Jon Dybdahl and Bruce Moyer. These classes were indispensable and are still extremely useful to me today—I still refer to those notes, 31 years later. Where else could an undergrad student in engineering also sit at the feet of those world-renowned missiologists but Andrews? Needless to say, when I got back from being an SM I knew that God could use me as an engineer, and the rest of my education at Andrews and elsewhere suddenly had meaning and purpose."
Daryl and his wife, Johannie, have two children: Noah and Anoushka. He enjoys trail running, photography, UAV videography, scuba diving, hiking, cultural anthropology, paragliding and ham radio.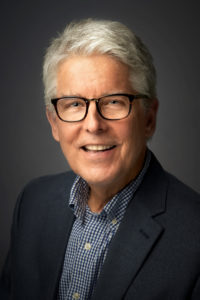 Dwight K. Nelson (MDiv '76, DMin '86) 
Dwight K. Nelson was born to missionary parents in Tokyo, Japan, in 1952. He is a fifth generation Adventist and fourth generation preacher, serving for 50 years as a pastor in the Seventh-day Adventist Church. Forty of those years, from 1983–2023, were spent in one location, Pioneer Memorial Church on the campus of Andrews University. Hundreds of thousands of people around the world have been blessed by his passionate desire to share God's love. "God's not somebody to be afraid of, he's somebody to be a friend of" was the focus of his ministry.
Dwight's education began overseas. He graduated from Far Eastern Academy in Singapore in 1969 and received a BA in religion/theology in 1973 from Southern Missionary College (now Southern Adventist University). He also earned two graduate degrees at the Seventh-day Adventist Theological Seminary at Andrews University, a Master of Divinity in 1976 and Doctor of Ministry in 1986. Before coming to Michigan, Dwight served as a pastor in Oregon for ten years.
One of the hallmarks of his years at Pioneer Memorial Church was realigning the stated mission of the congregation toward the students of Andrews University. This led to transitions in worship style as well as the addition of two wings to the existing church so everyone from newborns to centenarians would have a place to belong.
As early as 1988, Pioneer Memorial Church began using television as an outreach tool. From a 30-minute studio program on WHME, a religious station based in South Bend, Indiana, to an ABC TV national Christmas Eve telecast, to Net '98, and then the New Perceptions weekly telecast from Pioneer Memorial Church that was aired on WHME, HOPE-TV and 3ABN TV, a full-blown television ministry was established. Dwight was the speaker for Net 98 "The NeXt Millennium Seminar," a live simultaneous satellite evangelistic event for the Adventist world church. It took place over five weeks and was broadcast to 100 nations in 40 languages from Pioneer Memorial Church.
A prolific author, Dwight has written a dozen books, including "A New Way to Pray," "Outrageous Grace," Countdown to the Showdown," "American Apocalypse," "Built to Last," "The Claim" and many more. He has also served as an adjunct teacher of homiletics at the Seventh-day Adventist Theological Seminary since 1987 and led dozens of evangelistic crusades around the globe.
Dwight shares, "For 42 years (two as a student, 40 as campus pastor) I have had the privilege of sharing the life and serving the campus of this great university. It has been my joy to journey alongside four university presidents, a few thousand students and hundreds of dedicated faculty and staff—first, to embrace a personal friendship with "the Maker of all things [who] loves and wants me;" and then, to collectively live out our mission to share Christ with the world. For as long as we live, Andrews University's "legacy of leadership" will summon us to be God's leading edge to serve and reach this generation for Him. To that legacy, I, too, want to remain faithful."
Dwight is married to Karen (Oswald). They recently celebrated their 49th anniversary, and have two married children, Kirk and Kristin, and three granddaughters.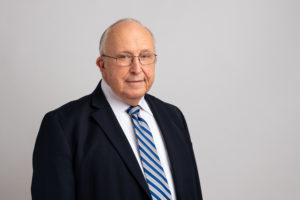 James (Jim) Nix (MDiv '72) 
The entire career of James R. Nix has been devoted to preserving and sharing the heritage of the Seventh-day Adventist Church, including the writings of Ellen White. He earned a BA in history and theology from La Sierra University in 1969, a Master of Divinity at the Seventh-day Adventist Theological Seminary in 1972, and a Master of Science in Library Science from University of Southern California in 1975. Peruvian Union University in Lima, Peru, bestowed him with an honorary Doctor of Theology in 2009.
James began as an archivist for the Loma Linda University Archives and Special Collections in the 1970s and then became director of the Ellen G. White Estate Office at Loma Linda from 1976–1993. In 1993 he moved to the Ellen G. White Estate, Inc. at the General Conference of Seventh-day Adventists, where he ultimately served as the director for 20 years, retiring in 2020. Concurrently, he served as a field secretary for the GC from 2000–2020. He was ordained as a Seventh-day Adventist minister in 1994.
As White Estate director, James assisted with the opening of 11 Ellen White Research Centers around the world. In addition, he worked toward making White's books and previously unpublished letters and manuscripts freely accessible, in as many languages as possible, on the White Estate's website, egwwritings.org. In 2015, James was responsible for opening a "world class" Ellen G. White visitor center at the world headquarters of the Seventh-day Adventist Church.
He has visited more than 100 countries, mostly on behalf of the Ellen G. White Estate or other Adventist organizations, participating in various seminars, committees, camp meetings, symposiums, etc. James has also led thousands of individuals on Adventist heritage tours throughout the northeastern United States, Michigan and California.
James is currently researching and writing a book about Ellen White's return from Australia to America in 1900. He served as the managing editor of "Adventist Heritage Magazine" and was the founding editor of "Research Center News Notes" and the "Adventist Heritage Ministry Bulletin." In addition, he has authored numerous articles and several books.
In 2020 he was honored with a Lifetime Achievement Award for his nearly 50 years of service in fostering a wider interest and understanding of Adventist history. He recently retired from the Adventist Historic Properties Board, serving as chair for 25 years.
James says, "Although many memories from my time at Andrews come to mind, one professor stands out as having an especially positive impact on my life and work. Dr. C. Mervyn Maxwell, chair of the church history department in the Seminary, modeled for me how to successfully integrate historical facts with the singing of pioneer hymns and the use of stories to present the account of God's leading in the founding of the Advent movement. I know from several classmates who shared with me the positive impact that Dr. Maxwell had on them. In my case, he inspired me not only to use Adventist history in presentations, but his support for the founding of Historic Adventist Village has been a blessing for our church worldwide."
James and his wife, Mindi (Sheels), a former middle-school teacher, currently live in Washington state. They have a daughter Shannon Buchanan, who is an artist, and a grandson, Tiernan Buchanan.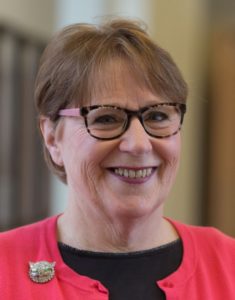 Susan Zork (MA '01) 
Susan Zork retired as assistant professor emerita of religion at Andrews University in 2021, but that retirement was short-lived and she is now serving as the newly appointed chaplain for pastor care at the Andrews University Center for Faith Engagement. 
Her areas of specialization are in Christian spirituality and discipleship. Additionally, she loved teaching general education theology courses to hundreds of Andrews' undergrads as well as spirituality within healthcare professions. Her love of the classroom is reflected in being awarded the Daniel A. Augsburger Excellence in Teaching Award and "AUSA Teacher of the Year" on two separate occasions. 
For her undergraduate studies, Susan attended Atlantic Union College in South Lancaster, Massachusetts, where she graduated in 1986 with a BS in elementary education. She continued her education at Andrews University years later and completed a Master of Arts in religious education in 2001. She is currently in the dissertation stage for a PhD in religious education at the Seventh-day Adventist Theological Seminary.
Her career began in 1977 when she served as head dean of Maplewood Academy in Hutchinson, Minnesota. Susan served in other dean positions at Auburn Adventist Academy and Shenandoah Valley Academy, before becoming an office manager and assistant registrar at Walla Walla College in Walla Walla, Washington in 1989. She joined Andrews University in 1991 as an administrative assistant and has since held positions as general studies advisor, assistant to the vice president of academic administration, Andrews University-Home Study International distance education coordinator, advising coordinator at Student Success and assistant professor of religion.
Susan has been a volunteer teaching pastor at One Place Fellowship on the campus of Andrews University since 2011. She has an active speaking circuit at churches, academic and civic events, grief management programs, etc. around the country. Susan also continues as a singing member, pastor and "Mama" of the University Singers under the direction of her husband, Stephen Zork, professor of music and director of choral studies and the graduate choral conducting program at Andrews University. She just returned from Iceland and England where she preached at Newbold College and sang several concerts with the University Singers. 
Additionally, Susan is a published composer and recording artist. But, most of all, she maintains that her greatest claim to fame and sweetest blessing would be her four grown children: Nicholas (Noelia), Benjamin (Mirka), Timothy (Cindy) and Jasmine (Ben), seven of whom are graduates of Andrews University. Along, of course, with six "amazing" grandchildren; Ava, Emily, Zoey, Leo, Oscar and Felix. She covets travel for extended "babysitting gigs" and to visit family that live in various parts of the country.  
Susan says, "We are starting our 33rd year of of life and service at Andrews University. I am deeply grateful for the privilege of working for the Kingdom of Jesus and coming to know so many, many incredible, precious students!"
The "Up-and-Coming Alumni Award" is presented to alumni aged 40 and under who are "Changing the World" through notable achievements in a profession or occupation, impactful contributions to the community or church, and/or outstanding service to the University. Nominations are submitted by fellow alumni or Andrews faculty/staff and approved by the Alumni Association Board of Directors. Congratulations to this year's inaugural recipient!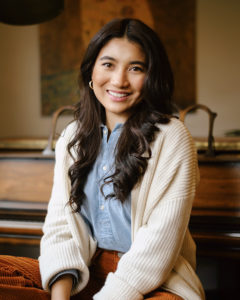 Simone Weithers (BFA '16)
Simone Weithers has floated between many people groups in her lifetime and is always searching for intentional spaces where people feel belonging and are accepted for their true selves. She spent her early years living in Brooklyn, New York, as a biracial child of Filipino and West Indian immigrants, then moved with her family to Berrien Springs, Michigan, in 2004.
At Andrews University she delved into art history, design, Spanish studies, and performing arts.  Her sophomore year was spent studying Spanish and living in Argentina. After her year abroad she spent a month traveling and studying Spanish history in the Mediterranean.
Alongside her studies, she co-founded the Andrews University Theatre Wing, where she produced, directed, and starred in five plays and musicals; founded The Nest, a monthly underground open mic night for budding artists; and served on the Andrews University Student Association as a public relations officer.
Simone completed a Bachelor of Fine Arts in visual communication in 2016.  Upon graduation she was hired by Mary Cheatham King Real Estate (MCKRE), a boutique luxury real estate firm on the North Carolina coast.
In fall 2018, Simone moved to Holland, Michigan. Her first job was marketing director for Tulip Time Festival, the most well-known nonprofit in West Michigan responsible for bringing in over half a million tourists and $48M in economic impact every year. She was the first person of color hired on staff in Tulip Time's 90 years. 
She also served on the board of Downtown Holland's Principal Shopping District (PSD) and, as the youngest board member and one of two members of color, re-established the Diversity, Equity and Inclusion (DEI) subcommittee.
In 2019, Simone joined others in launching two collectives: Salon Lakeshore and Women of Color GIVE (WOCG). In 2021 she was awarded the Holland/Zeeland Young Professional Leadership Award for Equity Matters, and in 2022 she was named one of Grand Rapids Business Journal's 40 under 40 emerging business leaders who are making a difference in West Michigan. 
Currently, Simone serves on the boards of nonprofits I AM Academy and Holland/Zeeland Young Professionals (HYP), for which she has also hosted a podcast.
She now works as the Creative Director at an agency where she crafts visual narrtives for a diverse range or clients.  In fall 2022, she launched a Community and Startup Program, an initiative that has increased revenue for the agency while diversifying their portfolio and expanding their network throughout the state.
Simone shares, "Andrews University provided me a safe space to creatively experiment with how to build and cultivate community. The leadership and organizational skills that I was able to develop and sharpen while at school helped me confidently enter into a competitive career field and rise above the rest."
The Spirit of Philanthropy Award recipients are selected each year by the Office of Development and presented with the award at the Spirit of Philanthropy & Homecoming Banquet. Congratulations to this year's recipients!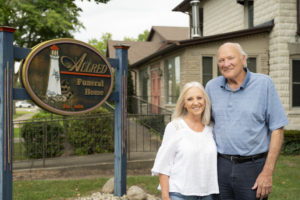 Jim (att.) & Karen (BS '70) Allred
Jim and Karen Allred are long-time members and business owners in the Berrien Springs community. Jim's family moved to Berrien Springs when he was a young boy, and in 1976 he and Karen purchased the business his father had started in 1960. 
Karen grew up in Berrien Springs and graduated from Andrews University with a BS in secretarial science in 1970. Her parents, John and Lora Neumann, worked for Andrews in the business office. Jim attended Andrews University and Lake Michigan College before earning his Mortuary Science degree from Wayne State University in 1974. 
They have three grown children—Kimberley (Bill) Dustin, Kelley (Tim) Hawkins and Jimmy Allred—who also received an Adventist education; plus four grandchildren, the love of their lives! Family has always been a priority for them. 
Jim and Karen have owned and operated Allred Funeral Home since 1976, as well as Bowerman Funeral Home in Eau Claire, which they purchased in 1987, providing a place of comfort for people facing the most difficult times of their lives. 
When they were married in 1969 by Jim's uncle, a Michigan Conference administrator, he wisely advised, "Your work (in the funeral profession) is equally important as any other type of ministry. Give it all to the Lord, and He will bless you." 
"We have always tried to live by that. And God has certainly blessed us!" they say. 
The Allreds have over 50 years of active participation and leadership in local organizations, including Optimist Club, Lions Club, Jaycees and Jaycettes. They personally garnered interest and support from other local businesses to formally organize the Downtown Business Association in Berrien Springs, prior to the formation of the Chamber of Commerce. Jim helped create the Berrien Springs Recreation Department and served on the board for many years, and also served on the Berrien Springs Village Council and its various committees for over 20 years.
Their community involvement has included sponsorship of the Recreation Department's soccer, softball and baseball teams, and Jim participated in the Jaycees softball team and the Berrien Springs Men's Basketball League, where he also sponsored a team. 
For several years, Jim served on the Queens' Committee as chairman of fundraising for the Berrien Springs Blossomtime Queen Pageant, and he and Karen have continued to support this scholarship program. 
The Allred family loves traveling together, listing family camping trips to the Upper Peninsula of Michigan, Hawaii, the Smoky Mountains and Gatlinburg areas of Tennessee, and attending NASCAR events as some of their favorite experiences. 
They also participate in the Michigan Funeral Directors Association (MFDA) annual golf tournaments that take place in various regions of Michigan, and they are longtime sponsors and players in the Wes Christiansen Memorial Golf Outing held annually during Andrews University's Alumni Homecoming Weekend. 
The Allreds are strong supporters of Andrews University and Andrews Academy. Jim and Karen shared, "Andrews has always been very good to us personally and professionally. We have tried to be the same for Andrews. Our children's education, PMC (Pioneer Memorial Church) and Village Church membership, and being good neighbors and business owners have been influenced by our growing up here, and our desire to raise our family here."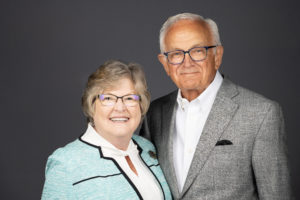 Chuck (att.) & Barb (BA '66) Randall 
Chuck and Barb Randall have been faithful and consistent supporters of Andrews University since 1976. Although retired, Chuck and Barb are still involved in the family business, Randall Residence, which provides senior living communities in Ohio, Illinois, Indiana and Michigan.
Chuck graduated from Cedar Lake Academy in 1960 and studied at Andrews University in the early 1960s. He served in the U.S. Army and was a member of the White Coats. Barb grew up in Missouri, graduated from Sunnydale Academy in 1962, earned a BA in elementary education from Andrews in 1966, and took graduate classes from the University of Maryland.
Barb and Chuck met at Andrews and were married at Pioneer Memorial Church in 1967. They say, "We were blessed with three sons, Christopher, Jason and Bradley. They, with their wives, Janelle Burghart, Letitia Scofield and Lori Hahn and their seven children are our joy! Chris and Janelle own Randall Residence, Jason is a psychologist, Letitia is an orthodontist, Bradley is a dentist and Lori is a teacher."
Barb was an elementary teacher, served on Michigan Conference, NAD and GC Executive Committees, was an officer of the local and national ASI organization, a member of 100 Women Who Care in Van Buren County, and a member of the Andrews University President's Circle and President's Council. She has been a Sabbath School teacher and an elder in her local church. Barb also served as a trustee on the Andrews University Board for 25 years!
Chuck has served as an elder, Sabbath School teacher and, his favorite, a greeter at his local church. He has served as a member or chair of multiple committees and boards, including the Long Range Planning Committee for Camp Au Sable, Long Range Planning Committee for Michigan Camp Meeting, Lake Union Executive Committee and Adventist Heritage Ministries Board. 
Notably, he was chair for 26 of the 29 years he served on the local hospital board. This led to serving as chair of the Michigan Hospital Trustee Association, a member of the American Hospital Association Congress of Trustees, and the first trustee elected to the Long Term Care Council of the American Hospital Association. He received the Michigan Hospital Association Trustee of the Year Award. 
Chuck also served on the Hinsdale System Board, chaired the Ohio Assisted Living Association Board, and was chair of the Van Buren County Mental Health Board for 10 of his 21 years as a member. The Randall Leadership Medallion was created in his honor for graduates from the Undergraduate Leadership program. He and Paul Stokstad are co-chairs of the Andrews University President's Council.
Chuck and Barb have participated in 16 mission trips to the Dominican Republic, Honduras and Cuba and joined the Bible Lands and Mediterranean tours with the Review. Chuck cooked for an Andrews archaeological dig in Jordan and participated in a dinosaur dig in Wyoming. They also enjoy traveling internationally with family.
Chuck and Barb say, "The teachers, the spiritual leaders and the friends we met at Andrews University helped set our values and influenced our choices through life. Because of that we have been committed to help Andrews with our time and finances to provide the same experience for others. Our three sons and their wives are Andrews graduates and we are pleased to now have two of our grandchildren currently studying there. We truly appreciate the blessing of Andrews University."