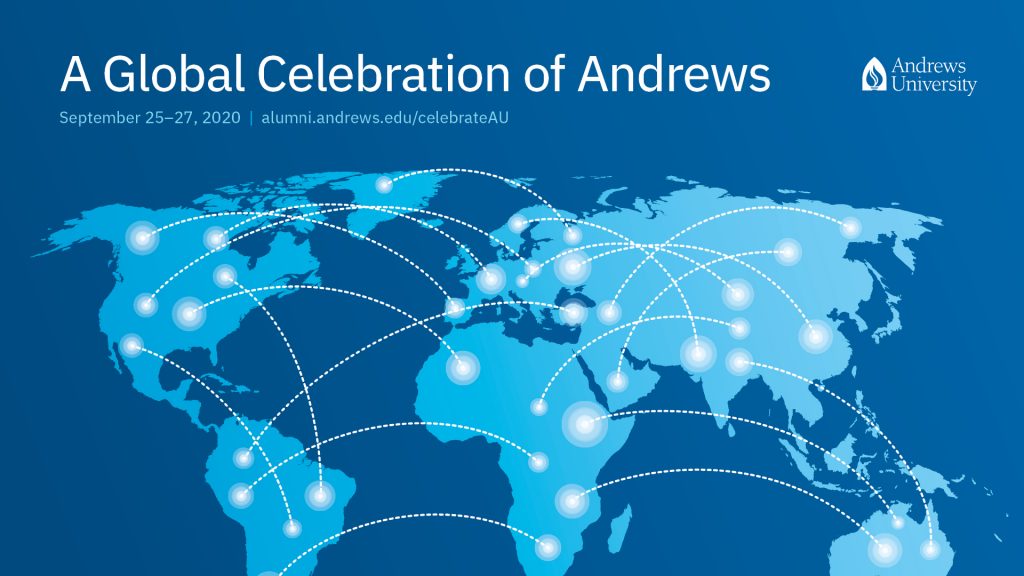 Please note that the schedule and links below are provided for replay as available.
Global Celebration of Andrews
September 25-27, 2020
Thank you for those of you who joined us for the Global Celebration of Andrews. The response from Andrews alumni across the globe was incredible. Alums tuned in from Spain, Australia, South Korea, Taiwan, Botswana, Kenya, Venezuela, Jamaica and Canada — to name a few. We loved reading your alumni stories and greetings, you can look through the collection of greetings here on this webpage. It was exciting seeing how many alums from around the world participated in the Virtual 5k, you can check out the participant photo board and results here. And of course, thank you for tuning in to our 15+ virtual events during the weekend. We've posted many of the event recordings, which you can view by clicking on the tabs above to see recordings from that day.
We hope that you can make plans to join us in person for Homecoming 2021, when we hope to gather together fully as an Andrews family once more here on Andrews University's campus. Homecoming 2021 Honor Classes will be: 1950, 1951, 1960, 1961, 1970, 1971, 1980, 1981, 1990, 1991, 1995, 1996, 2000, 2001, 2010, 2011, 2015, 2016, 2020, 2021. Visit alumni.andrews.edu/homecoming over the coming year for updated information.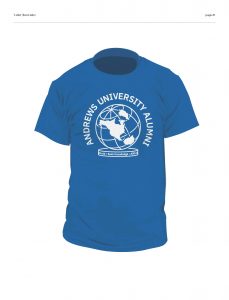 A limited number of special edition T-shirts are still available in limited sizing on a "first come, first serve" basis. Please contact our office at alumni@andrews.edu if you would like to order one.
Download Virtual Goodie Bag, #andrewsalumni Photo Contest, and Virtual 5k began
7:30 p.m. | Welcome Video & Proximity Vespers ("Love is Life – John 3:16" presented by Anthony Bosman). Watch recording below:

10:30 a.m.–12:30 p.m. EST | Francophone Group Sabbath School and Divine Service (French).
10:30 a.m. | "Making Friends for Eternity" Scriptural Pursuit Sabbath School (English).
2 p.m. | Campus Tour (tune in for a livestreamed walk-through tour of campus). View the recording below:
3–5 | School of Architecture & Interior Design Alumni Zoom Open House.
3:30–5 p.m. | "Real Talk: A Christian Social Work Response to Policing and Community Unrest" presented by the School of Social Work
4 p.m. | "A Look Back" video presented by BSCF (Black Student Christian Forum). View video below:
5 p.m. | Updates from the Seminary. View Recording here:
7 p.m. | Video Feature—"Celebrate AU: Re-experience Andrews." View Recording here:
8 p.m. | "Courage + Resilience" Global Celebration of Andrews concert featuring the Andrews University Singers, Wind Symphony, and Symphony Orchestra. View video below:
9 a.m. | Online Workout Class by Rachel Keele (interim manager, Andreasen Center for Wellness).
10:30 a.m. | "Tea with the President" Q&A.
1 p.m. | Andrews Webinar Series—"The Gut Microbiota Influences Health: A Malnutrition Report" presented by Dr. Kylynda Bauer (BA '14, BS '14). View Video below:
2:30 p.m. | Virtual Healthy Cooking Demonstration presented by the School of Population Health, Nutrition & Wellness. View Video Below:

Click here for Beet and Carrot Salad Recipe | Click here for Wild Rice Soup Recipe | Click here for Pumpkin Bread Recipe
View Cooking Demo Q&A Video here:
Virtual 5k Leaderboard Results and Participants Digital Photoboard
Andrews Alumni 5K Results and Photos
#AndrewsAlumni Photo Contest Winners
Use the tabs below to read thought the alumni stories submitted to us. The stories shown below are in no particular order and are subject to editorial approval by the Andrews University Public Relations Department.
VIRTUAL GREETING
If you have graduated from Andrews and/or attended we would love to hear from you! We are working on a collection of greetings from around the world to share with alums during one of the presentations.
HOMECOMING 2021 INFO
Due to Covid-19 we have posponed Homecoming 2020 celebrations to 2021 and will have combined celebrations on September 23-26, 2021.