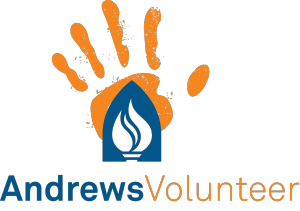 Nothing speaks more highly for a university than successful alumni who enthusiastically serve and support it. Whether you help recruit students, speak at a career workshop, join an alumni group or serve on the Board of Directors, you'll walk away with a sense of accomplishment and pride, knowing that you truly made a difference in the lives of Andrews University students and alumni. Volunteering through the Andrews Alumni Association is a benefit of membership.
As a volunteer, you can give of your time, talent and treasure how and when you choose. You can help with a specific program, serve on a committee, chair an event or help in another capacity. With so many programs and commitment levels available, we'll help you find the right opportunity for you.
The mission of Andrews Volunteers is to coordinate the services of volunteers and the needs of the university.
This means that we, as volunteers, are available to work with Andrews University students and the faculty/staff to fulfill the mission of the university. This mission involves seeking knowledge, affirming faith, and changing the world.
Volunteers receive many blessings through voluntarily helping meet the needs of people as Christ came to our world (to serve rather than be served). Perhaps you are already serving the needs of others in some capacity. Even a small amount of additional time given in intentional service to Andrews can make a big difference in your life and the lives of students and the dedicated people already associated with the university.
The following information and guidelines will assist you with some background concerning the orientation / training of the volunteers and your responsibilities as the person who requests their volunteer service.
Andrews Volunteers receive orientation concerning the general principles and best practices of volunteering. They are generally acquainted with our university – campus layout, Christian values and our mission to develop the mind, body and spirit of the students in accordance with the highest standards of higher education. Andrews Volunteers' ID card will mean they have completed an application process which includes an interview and background check.
Volunteers do not receive (or expect) any monetary benefit from their volunteering. The services they provide are to be dissimilar in scope, requirements and expectations from paid positions. This means their role does not follow full-time schedules of employees and is provided on an "as needed" basis. They do not supplant employees, rather they support them by enabling them to more effectively accomplish their responsibilities.
Put yourself in the position of the volunteer. They are not "free help." Don't ask them to do something you are not willing to do. We intend that Andrews Volunteers have a meaningful, enjoyable experience as they work with us.
When completing the request form, clearly describe the service you need help with, along with expectations – amount of time required, deadline for completion, etc. Responsibility for specific instruction and training concerning the volunteer's expected service is that of the department requesting the volunteer's service.   If problems arise, please contact the Andrews Volunteers Coordinator immediately.